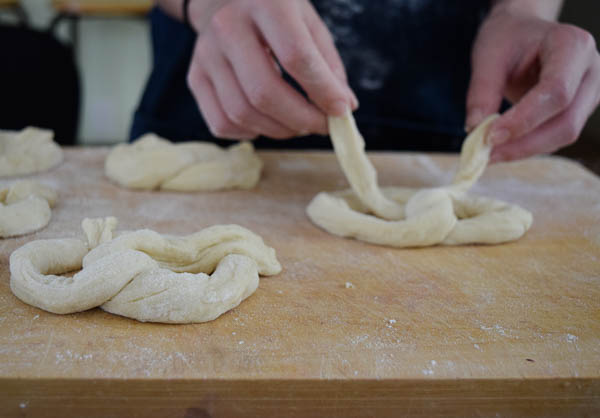 in bavaria, there is no real need for homemade pretzels. almost any pretzel you buy is superior to anything you will produce at home, especially when it comes to the crisp, salty, honey colored and distinctly sweet scented crust.
however, living on the other side of the ocean, this is a totally different challenge. for the longest time i have been searching for the secret of making soft pretzels from scratch that taste like the pretzels from the corner bakeries of my hometown. nothing i bought here from the european-style bakeries came close to what i remembered. there are few things my alpine heart is missing on this side of the ocean, the delicious saltine sweet and savory twist being one of them. hence the need for a soft pretzel exploration in my home kitchen.
crucial to the process is the lye solution, a caustic alcaline solution that cannot be found at your regular grocery store. in addition to it's limited availability it is also very acidic and should only be handled with protective gear, not something you would want to do in your home kitchen. a baking soda bath turns out to be the alternative.
soft pretzels:
much testing was involved to come up with the mix i am sharing below, the judges of my efforts being incorruptible authorities on the twisted delicacy from early childhood onward, for bavarian toddlers are weaned on pretzels.
for the pretzel dough: 600 g unbleached wheat flour, 50 g packed dark-brown sugar, 375 ml warm water (about 110 degrees), 1 package dried yeast, 10 g salt, vegetable-oil cooking spray
for the soda bath serving as lye:
1 liter of water, 50 g baking soda, 100 ml pale ale-style beer, 1 tbsp brown sugar, coarse salt,
sprinkle with:
poppy seeds, sunflower seeds, pumpkin seeds, caraway seeds, sesame seeds (optional)
in a medium bowl, mix together warm water, yeast, and brown sugar; let stand until foamy, 5 to 10 minutes.
in the bowl of an electric mixer, combine flour and salt using your hands. add yeast mixture and, still using your hands or a wooden spoon, combine until a shaggy dough is formed and water is absorbed.
using the dough-hook attachment, mix dough on medium-low speed until tight, elastic, and smooth. spray a large bowl with vegetable oil, set dough into bowl, cover tightly with a lid or plastic wrap. let dough rise at room temperature for about one hour.
preheat oven to 430°F/225°C, with rack in upper third. lightly coat a baking sheet with cooking spray or cover with parchment paper.
shape dough into a log. cut dough into about eight pieces, each about 1 inch wide. working with one piece at a time, roll dough into long strip and form into pretzel shape. if you have difficulty shaping the pretzels, form rolls, they taste just as good.
in a wide pot, combine water, baking soda, beer, and brown sugar. bring to a simmer over medium-high. simmer pretzels, one at a time, about 30 seconds each, holding them under surface of water, if necessary, with a wide slotted spoon or spatula transfer to prepared baking sheet.
sprinkle pretzels with pretzel salt and/or desired toppings, using one topping or combining different ones. transfer to oven and bake 20 – 25 minutes until crust is golden. transfer pretzels to a wire rack to cool.
thoughts!?!
nikki+++