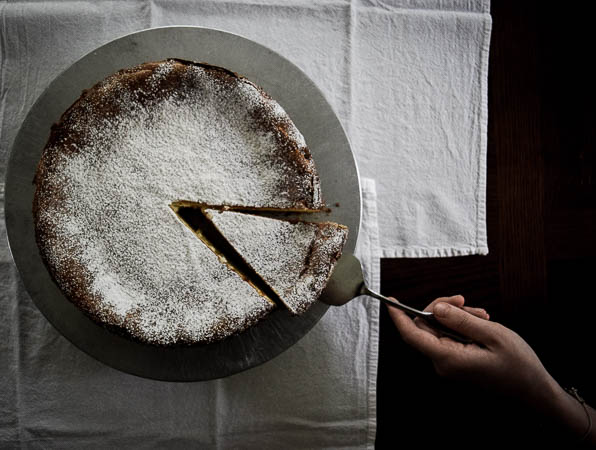 earlier this year, I started sharing wisdom. i pulled out the cookbook my mother had given me when i left my original home. it is the most seasoned of my travel companions, not only in appearance, but also my closet one with many of the recipes telling stories of my journey through life. it talks about a favorite lentil stew that would calm me down after a rough day. it recalls moments of making new friends over a sweet scented apricot streusel cake. it harbors cherished memories of the still very tiny little miss and herr erfinder devouring 'griesnockerl', the bavarian version of matzo balls. it preserves favorite lunchtime eats of doughy pancakes, the southern german equivalent of the french crepes. and, it also is my most valuable directory to the art of german pastry baking.
during the past winter, i had started to plan a few classes in crochet and embroidery, intending to bring back a rythm of meaningful occupation after the move. they were to be taught at the adult and community education program here. little did i know that instead of exploring the realm of fiber arts i would end up sharing wisdom about the german tradition of 'kaffeeklatsch'. the odds and ends life leaves us hanging with for the longest time, often come to full circle at moments we are least expecting it. it seems i had to cross an ocean to be able to share what i know best: baking pastry in a spring pan.
since, i have connected with many lovely people over mastering the art of short crust and yeast dough. most delightful are the exchanges across cultures and traditions. with all the differences in background and experiences we are bringing to the table, there is a distinct comfort in the shared delight of a fine piece of pastry made from scratch. no matter where we originally came from, universal is the experience of preserving culinary memories of the past we left behind and adapting them to the new environment we find ourselves in.
adapted as well is the recipe below from the one i found here. it hits the mark in the best possible way when baking a german cheesecake in 'quark' diaspora. it also relieves me of the stress of having to scout for the rare and usually most expensive occasion to find quark on the shelves of a grocery store far away from my usually hunts. for a taste of summer, drop a handful of blueberries or raspberries on the crust before you spread the filling on top.

for the crust: 150 g unbleached, all purpose pastry flour, substitute with whole wheat flour for a more nutty flavor, 1 tsp baking powder, 50 g cane sugar, 1 tsp vanilla extract, a pinch of salt, 1 egg, 75 g butter
for the filling: 750 g cream cheese, 100 g cane sugar, 1 (organic) lemon, zest grated and juice, 4 eggs, separated,
powdered sugar for dusting
butter and flour spring pan. Attach paddle to stand mixer or mix by hand in a large bowl: combine flour, baking powder, sugar, vanilla, salt, egg and butter in cubes into a smooth dough. roll out 2/3 of the dough at the size of the spring form between two sheets of wax paper. line the bottom of the form with the dough. use leftover dough to press into a rim along the sides of the spring form. chill crust for about 30 minutes.
preheat oven to 400°F/200°C. bake pie crust for ten minutes. take out pie crust, set aside to cool and reduce heat to 350°F/175°C.
for the filling beat the egg whites with whisk attachment until stiff peaks form. move egg whites into a different bowl. In the bowl of the mixer whisk cream cheese, egg yolks, sugar, lemon zest and lemon juice into a smooth cream. fold in the egg whites. spread filling evenly onto crust, bake cake for another 60 – 70 minutes until golden brown and knife or toothpick comes out clean. turn off the heat, crack the oven door and let cake cool down inside the oven. dust with powdered sugar. eat while still warm or refrigerate to keep for another two days.
nikki+++