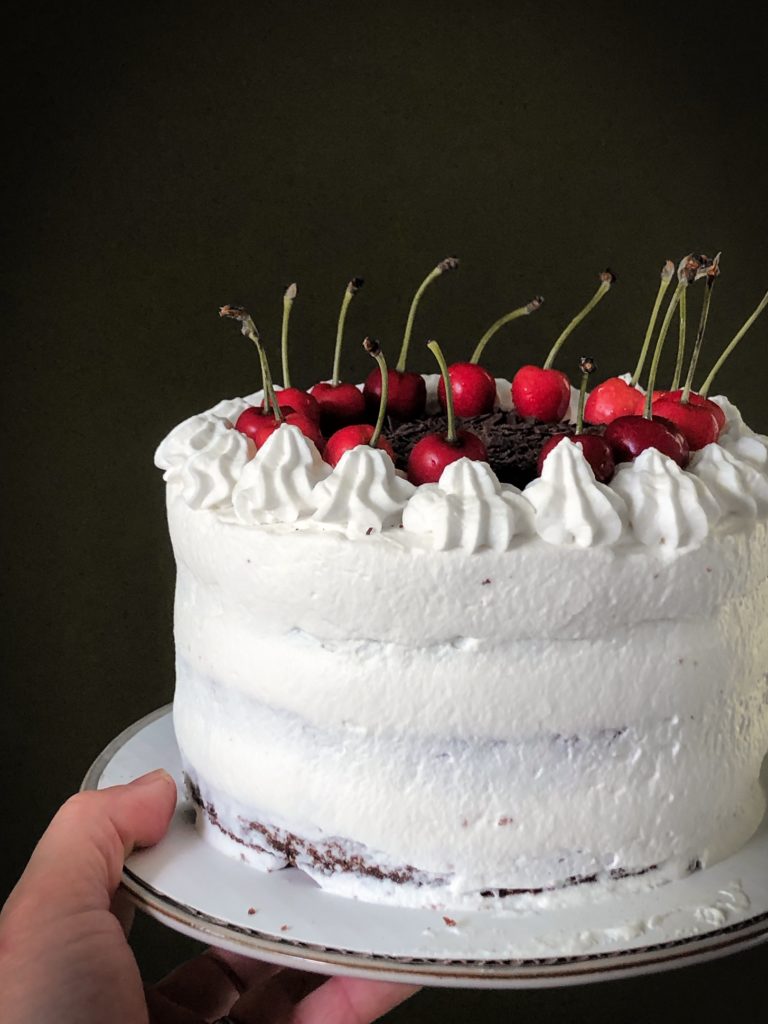 as we all know, black forest cake is t h e classic German pastry, and, as German bakers insist, there is only one correct way of making it: a chocolate sponge base soaked in a high percentage alcoholic beverage called kirsch, filled with tons of sweetened whipping cream and cherries, and topped off with more cherries and dark chocolate sprinkles. according to lore, the gateau as it is also called, derived it's distinctive features from the festive hats that go along with the traditional costumes women in the Black Forest communities are wearing on holidays and for special occasions.
while origins of this popular German dessert remain fairly unknown, the pastry was regulated by the German government in 2014, setting rules for what qualifies as a truly black forest gateau. according to those regulations only such pastry can be labeled and sold as Black Forest Cake that contains kirsch distilled in the Black Forest region of Germany, is filled and decorated with heavy 30 % fat whipping cream , and has 3 % cocoa added to the base.
luckily, these rules do not apply to home bakers and we are left with tons of black forest cake variations and recipe we are allowed to bake and to eat in the privacy of our homes. i tried a lot of different ones, found some to be too sweet, to heavily soaked in alcohol, to dry at the base and too bland in taste. to me, the best version of a black forest cake is the one from fresh cherries with the refined taste of the juicy fruit taking the lead. also, the base needs some ground almonds for a little texture to balance out the airy volume of the whipped cream. lastly, the extra bit of dark chocolate that pairs so well with the cherries should absolutely be shaved off a high quality chocolate bar, and never come from a jar of sprinkles.
the heavy personality of this very German of all German desserts lends itself to limited consumption. for this very reason, i usually bake it as a mini cake in a 7 inch pan. that way, it's so much easier to handle when filling and decorating it, and it just looks so much more pretty too!
notes:
this recipe is for a 6 inch cake pan or spring form. double all ingredients for a 9 inch pan. line cake pan or spring form with parchment paper for baking. do not use grease or non-sick spray as it will ruin the dough.
when baking, put the rack into the center of the oven. the cake base is done when a wooden stick comes out mostly clear with only some crumbs, the crust is slightly cracked, and of a medium brown color. let the base cool down on a rack before taking it out of the pan or spring form. peel off parchment paper.
bake the cake base a day ahead, let it cool entirely, and put it in a container with a lid or wrap it in plastic to keep it from drying out.
typically, the classic Black Forest Cake base is soaked in kirsch, a high percentage spirit distilled from cherries. however, feel free to skip the alcohol and use cherry juice or any other red juice to sprinkle over the base.
use fresh, frozen or preserved cherries to fill and decorate the cake. either will create a distinct texture in the filling and have a slightly different taste. Adjust the recipe's directions for liquid and preparation of the filling accordingly. when using preserved or frozen cherries, preserve any juice or liquid in the jar or from defrosting. when using fresh cherries, remove pits and add 2 -3 tablespoons of water when preparing the filling.
Only use heavy whipping cream from the refrigerator aisle for filling and decorating the cake. for superior taste, the use of cream from spray cans is not recommended. grate or shave a good quality dark chocolate bar, not baker's chocolate, to sprinkle the cake. I found that using a vegetable peeler works best to shave off the chocolate fast enough before it melts in your hands.
chill Black Forest Cake for at least one hour, or over night before serving to let the filling melt into the cake base. keep any leftovers in the refrigerator, slightly covered in plastic up to two more days. it is possible to freeze the cake. place it in a freezer safe food container covered with a lid. defrost it overnight in the refrigerator or 2 hours at room temperature before serving. do not defrost it in the microwave or the oven.
recipe for my version of black forest cake:

ingredients for the base:
3 eggs, separated
2 tablespoon warm water
100 g sugar
50 g all-purpose flour
25 g cocoa powder
15 g corn or potato starch
50 g almond meal
1/8 teaspoon salt
½ teaspoon baking powder
ingredients for the filling:
about 200 g of preserved (half a jar), frozen or fresh cherries, drained (preserve the juice)
½ tablespoon cornstarch
2 – 4 tablespoons of juice or water
400 g whipping cream
1 ½ tablespoon powdered sugar
50 g dark/bittersweet chocolate bar, chilled in freezer for grating/shaving
directions:
preheat oven to 350°f. line cake pan or spring form with parchment paper.
place the egg whites in a bowl of a stand mixer or a bowl to use a hand held mixer. with the whisk attachment, beat egg whites at medium speed until peaks start to form. slowly add half of the sugar (50g) and continue to beat at high speed until sugar is well incorporated and the egg whites are thick and glossy.
in a separate bowl, beat egg yolks with water and other half of sugar into a light cream. pour egg whites onto egg yolk cream.
in another bowl mix all flour, baking powder, cornstarch, and coco powder. using a sifter, add the dry ingredients to the egg mixture, then add the almond meal. with a rubber spatula or a wooden spoon, carefully fold everything together until batter is thick and creamy. do not over mix to avoid pushing the air out of the egg whites. fill the batter into cake pan, bake for about 30 – 35 minutes until a wooden pick comes out clean. let cake base cool down on a cooling rack.
to prepare the filling, set aside about ten cherries for decorating the cake. use the rest of the cherries for the filling. in a sauce pan, mix cherries with water and cornstarch. bring the mixture to a boil until cherries just are starting to break apart and the liquid starts to bubble up and thickens slightly. if liquid is not thickening, dissolve some more cornstarch in cold water and add it to the cherry mix. take pot off the heat and let mixture cool down entirely.
whip the heavy cream with the whisk attachment of a hand held mixture or a stand mixer. as the cream starts to thicken, add the sugar and keep whisking until stiff peaks form. chill in refrigerator.
cut the fully cooled cake base into three layers. soak each layer with one teaspoon of kirsch or some red juice. on a wooden board or a spinning cake stand, set up the cake for filling and decoration. starting with the bottom layer, spread whipped cream about ¼ inch, add half of the cooled cherry filling, place the second layer on top. repeat filling the second layer, top with third layer. for a flat top, turn slightly curved top layer upside down. fill any gaps on the side of the cake with cream.
to finish, layer top and side of cake with cream, smoothing and straightening it with a knife or a spatula. decorate the top with the cherries you set aside earlier, sprinkle with grated chocolate.
for a more refined look, you may want to use a pastry bag to pipe any kind of rosettes from whipping cream onto the cake or to create a ribbons on the sides of the cake.
enjoy!
nikki+++