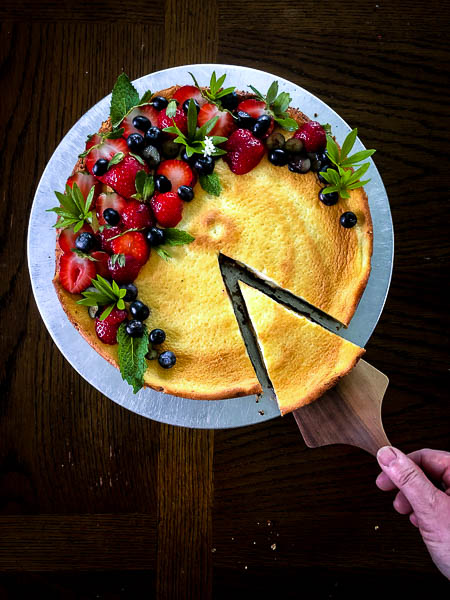 I believe, seasonal baking is the most delicious, and rarely is a pie more seasonal than when made with rhubarb. in fact, there is only a very short window from mid-April to mid-May when the ruby red stems can be found at farmers markets or the produce section of your local grocery store. after I moved stateside, the rhubarb season became even more special, being not only tied to the growing and harvesting season of the plant, but also by its scare availability. every year, my phone starts humming with text messages from like minded friends sharing the few and very secret shopping locations the red gold has been spotted at. yesterday, on one of my outings to the store that have become so rare during these odd times of keeping a distance, I was lucky to find the lovely stems. admittedly, in this very moment I turned into quite the selfish kind, and without much hesitation, I bagged almost all the rhubarb that sat on the top shelf of the produce aisle. later that day, I used some of my equally valuable flour stock, bedded some of the rose colored bounty on a short cake crust and covered it with a sour cream and egg custard I had long forgotten about. to be honest, I like this version of a German rhubarb pie the most, the heavenly mix of chewy crust and tart rhubarb, supported by the mild sweetness of added strawberry preserve, and all of this fruity goodness wrapped in a soft, creamy, elegant layer of custard. seasonal German baking at its best!
recipe for my favorite version of rhubarb pie
ingredients for crust to fill a 9 inch spring form:
200 g flour
130 g chilled butter, in cubes,
70 g fine cane sugar
pinch of salt
2 egg yolks or 1 egg
fruit topping:
300 g rhubarb, skinned and cut 1/2 inch pieces
1 tbsp flour
1/4 tsp ground cinnamon
100 g red berry preserve
a handful of breadcrumbs
custard
3 eggs, separated
70 g fine cane sugar
125 g sour cream
preheat oven to 350°F / 180°C. butter & flour the spring pan.
in a large bowl, mix flour, salt, and sugar. add butter in cubes. with your fingertips, quickly work butter into dry ingredients until small crumbs form. with a wooden spoon, work in egg yolks or egg until smooth dough forms. finish with a few quick turns by hand. spread dough into the spring pan, forming a rim on the edge of about 1 inch high. sprinkle the bread crumbs onto the dough, spread the fruit preserve, top with the cubed rhubarb and bake for 20 minutes.
while the pie is baking, prepare custard. with a stand mixer or a handheld mixer, whip the egg whites until soft peaks form. slowly add the sugar and keep whipping until egg whites are stiff and shiny. in a separate bowl, mix egg yolks with sour cream, stirring by hand. fold egg yolk-cream-mixture under egg whites. top and cover pre-baked pie with egg-sour cream mixture and bake for another 20 minutes until custard turns golden at the edges.
let cake cool down on a cooling rack, carefully remove spring form ring by inserting a knife around the edge first. tastes best on the day of baking. in case there are leftovers, chill in fridge uncovered and eat within the next two days.
nikki+++