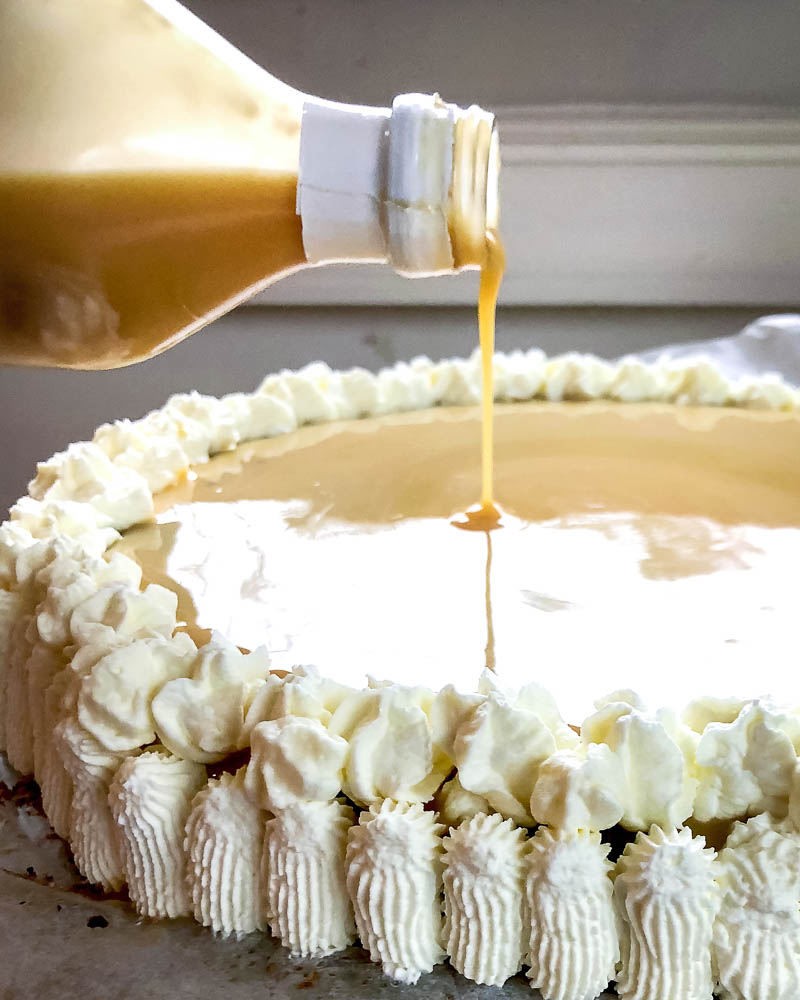 spiking pastries or rather the fillings thereof is certainly at the heart of German pastry baking: just think about the Kirsch, so famously giving the Black Forest Cake its prime aroma, the raisins for stollen soaking in rum at least a day or two, the ambrosial red wine and glühwein coffee cakes, and the huge variety of chocolates filled with high percentage spirits distilled from summer fruits such as apricot, pear and plum.
being the laid back people Germans are when it comes to alcoholic beverages as part of family rituals throughout the seasonal year, nobody was overly concerned when my grandparents gave their grandchildren an elegant box of luscious chocolates filled with spirit infused fillings for Christmas back in the days. those were the times, when the spiked eggnog tarte was a staple at my mother's winter coffee hours. her dark chocolate tarte was immensely popular with everyone, not only for its spirited character, but also because of its elegant appearance, wrapped in delicate laces of piped whipping cream and covered with shimmering 'eierlikör'!
But times changed, even in Germany, and serving a cake covered in a layer of high percentage alcohol at a table crowded with children and teenagers became a thing of the past. Only recently, when i discovered that stateside eggnog is primarily a non-alcoholic treat and only second an alcohol infused libation, i was reminded of the recipe again. Certainly, eggnog isn't exactly 'eierlikör', however it can can very well be substituted for it in this recipe. in case the alcohol infused version does appeal to you, spike the eggnog with some rum to taste.
here is my mother's secret recipe for the vintage eggnog tarte revealed:
ingredients for the tarte:
80 g butter
80 g sugar
1 tsp vanilla extract
5 eggs, separated
200 g ground almonds
100 g dark chocolate, grated
ingredients for the topping:
500 ml of whipping cream
eggnog
directions:
line a spring form with parchment paper and pre-heat oven to 350 F.
in the bowl of a stand mixer, whip the egg whites until stiff white peaks are forming. move the egg whites into a different bowl. put bitter and sugar into the mixing bowl and with the paddle attachment beat until creamy, add the egg yolks, one at a time and keep on beating into a white and creamy mixture. add the chocolate and stir until incorporated. with a wooden spoon or a spatula gently fold the egg whites and almonds under the butter and egg yolk mixture. don't over mix.
spread batter evenly into the spring form and bake for about 55 – 60 minutes. Let cool entirely on a cooling rack.
with the whisk of a stand mixer, whip up the heavy whipping cream. fill it in a pastry piping bag with a fluted tip.
with a wooden pick, poke holes into the tart and brush it with eggnog to soak the tarte. pipe whipping cream around the edge of the tarte and along the sides. pour more eggnog onto the tarte, don't overflow. Chill the tarte in the refrigerator until serving.
For the weeks until spring, keep warm and bake on!
nikki+++