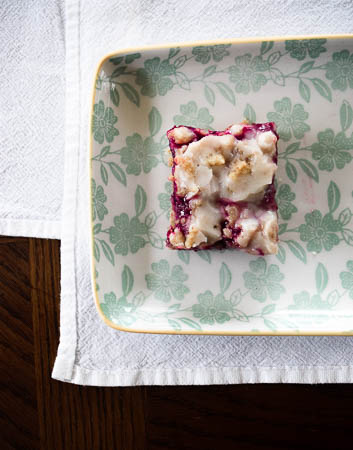 in february, some time around valentine's day winter left us.
the young ones had hoped for a blizzard to keep them from school at least for a week. instead, there was not a single snow day, only some two hour delays occurred due to heavy winds and some flurries. winter left us utterly disappointed.
and then, spring almost hit us unexpectantly and with a forceful strive. bright sunshine, deep blue skies, a pleasant breeze called for the magnolia trees to dust off their glorious pink gowns. we kicked off shoes and socks and strolled down the warm slope behind our house still clad in winter's dry grass. blissful are those first dreamy moments of early spring when nature switches from sepia to technicolor, when cheeks turn rosy and heart and mind are budding with plans for outdoor delights.
our gardners' dreams are of raspberries. in fact, two stalks are waiting to be planted in freshly tilled soil. awaiting a future of bountiful harvest to be turned into almond glazed raspberry streusel bars, full of juicy fruit flavor and fine caramel aroma, the recipe inspired by sugar mama's bakeshop, adapted from the one transcribed here.
for the crust:
470 g pastry flour, 320 g coconut sugar, a pinch of salt, grated zest of one lemon, 375 g chilled butter cut in cubes
preheat oven at 180°C. butter and flour a 20 x 30 cm baking pan. in a large bowl combine flour, sugar, salt, lemon zest. with a pastry blender or with finger tips quickly cut butter into the flour mixture until small crumbs are forming. press about three quarters of the dough into the baking pan, forming a small rim on the sides. chill crust and remainder of the streusel dough in refrigerator. after 30 minutes of chilling bake crust for about 15 minutes until golden brown. take crust from the oven and set aside to cool.
for the filling:
500 g raspberries, fresh from your imaginary garden patch or frozen from the freezer aisle, 90 g light cane sugar, 1 tablespoon cornstarch or flour
in a saucepan or small pot stir together raspberries, sugar and cornstarch. heat over medium heat about two minutes, constantly stirring, until sugar and cornstarch dissolve and berries are juicy. set aside to cool.
pour filling over half baked crust. take remaining dough from refrigerator and spread it over the fillig in coarse crumbs. bake for another 25 minutes.
for the glaze:
100 g powdered sugar, 2-3 tablespoons heavy cream, some drops of almond extract
whisk almond extract into sugar, carefully add cream one spoon at a time until a very thick frosting forms. with a small spoon drizzle frosting over the top of the streusel cake. chill cake for at least one hour and cut into bars.
this march, there is a pink lining on the horizon, enchantingly sweet and delightfully tart.
nikki+++